The story of the Ramirez children is what Buenos Vecinos is all about—building relationships and working together to improve the quality of each others' lives. Please read the history below, along with updates, of this very special relationship and extraordinary little family!
How it all began ~ a letter from Ellen ~ Oct 2008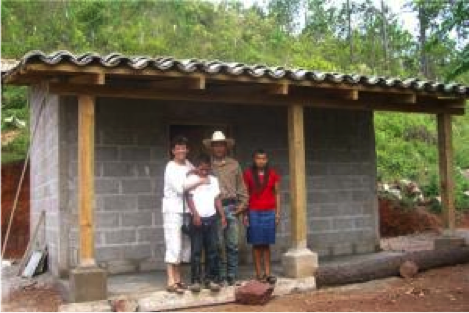 Okay, I have to write about these kids because I saw them again today and I am just filled with love!!! They came at 6 am this morning to deliver firewood from their village Llanetios… about an hour and a half hike down the mountain (and up the mountain… even worse)
They are orphans, Isaias 15 and Alexander 12. Their parents died quite a while ago and they live with their grandmother who is ailing along with their aunt Maria who is 17. Isaias had to drop out of school to work after his parents died. He cannot tell time but he can read. Alexander still continues in school. I gave them each a book today and they were so joyful. Then I gave them raisins (neither had seen raisins before and when I explained that they were dried grapes, they asked me ¨"what were grapes"?).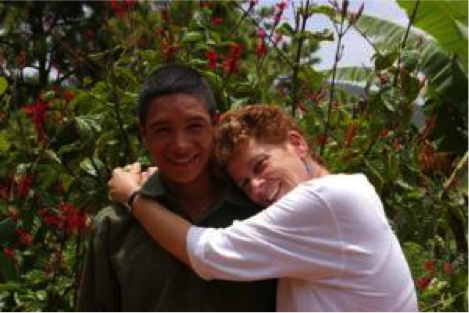 These kids are so magical and I am so attached, but Isaias is extraordinary!! He glows! And I swear when he smiles, or when I hug him, angels fly out of his body and just hover around with glowing joy and energy. For me to say something like this is quite a leap of faith, folks, but I cannot describe it any other way. It was love at first sight when they came to our house to deliver firewood. I could not take my eyes off of their dirty , sweating faces and beaming smile. I gave them water… it was an incredibly hot day and they were delivering wood in the hot sun all day.
Now we are friends… or should I say family!! I cannot get to Llanetios as often as I would like, but they do come down to deliver frijoles and firewood and we visit here in town. The family is desperately poor and lives on beans and tortillas with an occasional chicken or egg. When I visit them they always prepare a whole meal for me… probably their whole ration for the week. When I arrive, Maria runs or slides down the hill screaming my name with her arms waving in the air… she too is an orphan living with grandma. She is a young adult and teaches pottery to tourists who manage to make the climb up that way. She is always smiling.
I had been away for several weeks and Isaias apparently came by my apartment almost every day. He was saddened (as he told me yesterday) to see the door was always closed. Finally yesterday we met up… I saw his horse and recognized it before I could find Isaias… and then suddenly there he was, running toward me with his usual huge grin, yelling "mucho gusto mucho gusto mucho gusto!!!!" My heart leapt out of its cavity when I saw him and we hugged a gazillion times. We arranged for me to visit (if torrential rains allow) next Sunday.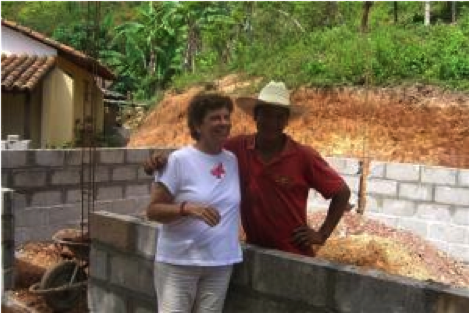 This is just so extraordinary, guys… I just had to write about it. I spend most of my life searching and pushing and fighting and struggling… and here in a matter of moments I can find such extraordinary peace. It blows me away!!!
Love to you all!!!! Ellen
UPDATE: A New House for the Ramirez Children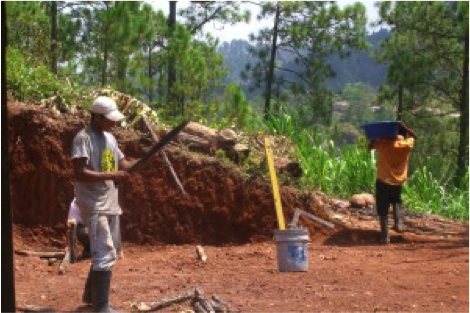 Over the spring of 2009 the Ramirez children's mud house collapsed in the rains. Through Project School Supplies and many generous donations, we have been able to build a new home for the children, who lost their only guardian, their grandmother, earlier this year.
The house is now complete and they are no longer sleeping on a mud floor. Thanks to the generosity of PSS donors, the children now have foam mattresses to sleep on for the first time in their lives.
UPDATE: November 2013
The Ramirez kids continue to work hard to provide for their little family. They now have their own land where they are growing corn, beans, and coffee. Isaias is now 21 years old, Maria 23, Alexander 18, and they are still as beautiful as ever! They come to visit from time to time, and it gives me such pleasure to see them!