In partnership with D.O.E.R.S., we started a kinder milk program in the kindergarten of El Chilar when a two year old died of starvation. Weeks later the kindergarten teacher called and said his sister was showing the same symptoms, so we took her immediately to the doctor and got her medication, and nutritional Pediasure and milk.
The doctor determined that 100% of the children were suffering from some form of malnutrition, many in the later stages.
When we saw how many kids were suffering in this impoverished village, we decided to have the entire school population de-wormed and began a program of daily vitamins, milk and Pediasure.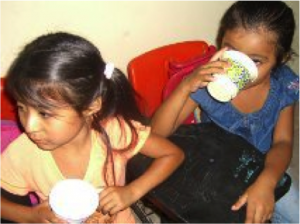 We are currently serving milk in 12 kindergartens and 3 entire grade schools (over 1000 children in total!) as well as two entire communities of children with amazing success. The teachers report that kids are more alert, more interactive and gaining weight! And attendance is much improved as well!
In the village of El Chilar, we have seen great success with our expanded milk/rice combo.  At the end of the school day, school children run home to collect their younger brothers and sisters and bring them to school for their snack!  The kids look forward to this every day… in fact, listen to this story from El Chilar's head teacher, Adin:
"After his grandmother died, 7-year-old Jaime was very sad, but he told me [his teacher] that he didn't want to go to the funeral.  When I asked why he didn't want to go, Jaime told me that the funeral was at the same time as the milk and rice program, and he didn't want to miss it!"   Needless to say, Adin arranged for Jaime to get his drink early so that he didn't miss his grandmother's funeral!
But the phone calls keep coming. Teachers continue to tell us that their students are fainting in class and some just don't come. If they don't come, they just get weaker because often school lunches are their only meal.
The hard fact is that children are dying of anemia, dysentery and starvation.
So now we are making even more of an effort to provide nutritional supplements and milk in more schools. We can do this under $5 per month, per child.
We need all the help we can get. If you're interested in supporting our Kindermilk program, click the link below. You can make this a monthly donation by clicking "Recurring Donation" to ensure that our children continue to receive this vital nutrition.
Support the Kindermilk Program
Please note: If you make a donation of $100 or more and you would like a tax-receipt, you must make the donation through Amigos of Honduras. Please read the directions on how to make a tax-deductible donation by clicking here. Or contact us if you have any questions. Thanks so much!